AAA Rents & Events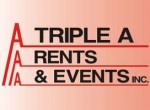 From the AAA Rents & Events website:
Since 1998 we've offered a wide variety of beautiful indoor and outdoor party rental equipment, for small family parties, weddings, corporate events and cultutal festivals.
Our experience over the years allows us to provide efficient, economical service so that your event can occur on time and on budget.
Customer service is our number one priority and we stand ready to provide you with the finest equipment in the industry. Delivered to you when you need it.
Let Us Help With Your Next Event
16010 Strathern Street, Van Nuys, CA 91405