Listings tagged: Modern Party Rentals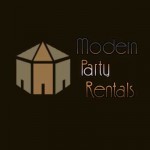 From the Modern Party Rentals website:
Rising up as the most popular party rental in California,
Modern Party Rentals is the hip and classy solution to every
party, wedding, or special occasion. We will meet your
expectations and more with our great prices, quality, and
service.
Experience, Reliability, and Capability. These are the
cornerstones that make Modern Party Rentals the trusted
partner chosen by leading event planners, caterers, event
venues and hosts in and around the Los Angeles area since
1999.