Listings tagged: party rents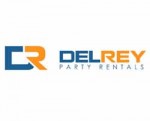 Information about Del Rey Party Rentals from their website:
For over 16 years, Del Rey Party Rentals has been offering high quality Party Rental equipment in Los Angeles, friendly event services, and reasonable Party Rentals rates to all of our Clients in Los Angeles, CA.
Here at Del Rey Party Rentals and Events our friendly and knowledgeable staff is focused on providing Information on Party Rental Equipment and Lounge Furniture to make your party,event,wedding,bar-bitzvah,bbq,gala,fair,school event a a successful, GRAND event!
Del Rey Party Rentals is located in Los Angeles, CA, right off of the 405 and the 105 freeway. We cater party supplies Rentals to all areas around of Los Angeles County. Please browse our complete party rental equipment inventory on our website, or come visit our large warehouse to see how we can fulfill your party or event's needs.
Del Rey Party Rentals started in 1996 in a 400 sq. Ft space and has expanded to over 20,000 sq. ft in the last years. Considered in the top 5 Party Rental Companies In Los Angeles,CA. Recently featured on ABC 7 of Los Angels, Del Rey Party Rentals Company excels in wedding party rentals, party equipment Rentals , Event Rentals In Los Angeles, and catering equipment rentals. We rent everything from Lounge Furniture,Tents,Pizza
– See more at: http://www.delreyparty.com/about/#sthash.RpeiMWnN.dpuf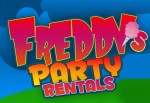 Information about Freddy's Party Rentals from their website:
Freddy's Rental is family-owned and operated in San Fernando Valley. Since our company first started in 1996, we've treated every customer like they were a part of our family and that is the reason we have been able to be around for this long. Similar companies may offer similar services and packages, but we can guarantee our services will not let you down and we are always one step ahead of the competition with all the lastest and newest products for every event.