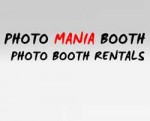 Long Business Description
Information about Photo Mania Booth Rentals from their website:
Photo booth rentals are available for your special event! We are located in San Fernando Valley, Ca. & are willing to travel everywhere in San Fernando Valley & Southern California to make sure your event is unforgettable. If you want to spice up your event, a photo booth is the way to go! Whether it's a Wedding, Bar/Bat Mitzvah, Prom, Graduation, Birthday Party, Anniversary, Quinceañera, Sweet 16, nothing adds to the fun than a classic photo booth. We also have photo booth rentals for your corporate event, including holiday parties, fundraisers and everything in between. There simply is nothing as fun as a photo booth to make your event unforgettable! With our experience with photo booths, you are sure to capture the most extreme, personal, intimate, hilarious and unexpected photos that you often miss. Indeed, photo booth rentals for your event will "make a good time into a great time."
Each photo booth rental also gets you a wide variety of layouts and colored backdrops that help you create a theme or exact look that you want.